Anisotropic Bonded Magnet
| | |
| --- | --- |
| Payment Terms: | T/T,L/C |
| Place of Origin: | Zhejiang, China (Mainland) |
Product Detail

Productivity:3 Tons /month;Transportation:By sea / By air;PaymentType:T/T,L/C;Trademark:MPCO;Functions:For motors;ExpRegion:Japan.;


Anisotropic neodymium magnet in its molding process is to make the easy magnetization direction of magnetic orientation arrayed along the magnetic field direction. Only obtain a higher degree of orientation, magnetic anisotropy can be shown in order to get a higher magnetic properties. At room temperature conditions, the anisotropic neodymium magnetic powder has high coercivity, saturation magnetization is not easy on the orientation of the magnetic field has very strict requirements, but also a mixture of magnetic powder and binder, and magnetic viscosity increase is not conducive to powder in the magnetic field in orientation. To this end, temperature and pressure can be used molding technology.

Thermobaric molding use this characteristic of anisotropic HDDR magnetic coercivity ' s large temperature coefficient, at a higher temperature molding material can lower the coercivity effectively, at the same time, the bong in magnet is in a molten state in a certain temperature scope in a molten state, the viscosity is very low, reducing the friction greatly between the powder, magnetic powder can rotate easily, lower orientation field requires the technologic.
The properties of the magnet grades shown below are representative of the magnets provided by Magnetic Products (Ningbo)co.,ltd. Please contact us with your specific requirement.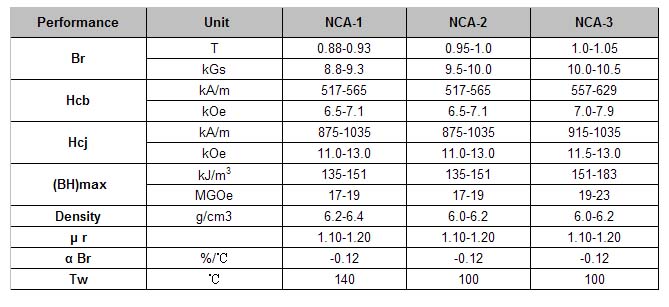 Related Search
Find more related products in following catalogs on Hisupplier.com
Related Products